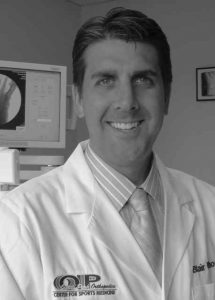 Sports Medicine Fellowship Trained
Knee, shoulder, elbow reconstruction
Experienced…
Dr. Rhode completed his sports medicine training at the Southern California Center for Sports Medicine. This is an accredited fellowship institution where Dr. Rhode spent an additional year training in complicated reconstruction of the shoulder, knee and elbow. Prior to that, he completed his five-year surgical residency at the Medical College of Wisconsin and his four-year medical training at the University of Wisconsin-Madison.
Dr. Rhode is also triple-board certified in orthopedic surgery, orthopedic sports medicine, and by the American Board of Independent Medical Examiners, which governs impairment ratings.
Advanced…
Dr. Rhode is trained in all orthopedic injuries and specializes in knee, shoulder, and elbow reconstruction. He has received specialty training in all-arthroscopic rotator cuff repair, arthroscopic shoulder instability repair and knee ligament reconstruction. He was one of the first surgeons in the United States to perform the Oxford partial knee replacement and the double bundle ACL reconstruction.
Trusted…
Dr. Rhode frequently serves as an educator for the Arthroscopy Association of America, teaching other orthopedic surgeons knee and shoulder arthroscopy. Surgeons trust Dr. Rhode to teach them the complicated procedures that they perform in their own practice.
"My goal is to educate the patient such that they understand their condition and the risks and benefits of each treatment. Most aspects of orthopedic surgery are not life and death situations. More often, a change in quality of life must be weighed against the risks of a particular treatment. An informed patient is able to determine what course of treatment is appropriate for them."
-Blair Rhode, M.D.
Dr. Rhode's Specialty Procedures:
Knee Surgery:
Minimally invasive (MIS) mobile bearing total knee replacement
Oxford minimally invasive partial knee replacement
Double bundle ACL reconstruction
PCL reconstruction
Meniscus Transplantation
Meniscus Repair
Cartilage Transplantation
Allograft articular cartilage transplantation (OATS)
Osteotomies about the knee
Shoulder Surgery:
Total shoulder replacement
Shoulder resurfacing (Copeland)
Arthroscopic rotator cuff repair
Arthroscopic instability repair
Acromio-clavicular joint reconstruction
SLAP Repair
Elbow Surgery:
Elbow replacement
Elbow ligament reconstruction- "Tommy John Surgery"
Hip Surgery:
Hip arthroscopy
FAI surgery
Dr. Rhode's Training
Southern California Center for Sports Medicine – Sports Medicine Fellowship
Medical College of Wisconsin – Orthopedic Surgery Residency
University of Wisconsin-Madison – Medical school
University of Wisconsin-Madison – BS Biochemistry